On average, how long should a BSC certification take?
On average, properly conducting the five primary tests according to the NSF / ANSI 49 on a Class II Type A2 cabinet, requires 45 minutes to an hour, presuming the BSC is close to compliance as found. BSC's that are connected to building air exhaust (A2 vented, B1 & B2) may require more time depending on the state of the building exhaust, alarm system calibration, airflow control valves, etc. An additional site-assessment test is also required on any vented cabinets as well. On all BSC's optional, secondary tests for worker comfort require even more time.
Why have an NSF / ANSI 49 accredited technician certifier test your BSC?
The National Sanitation Foundation (NSF) provides the only recognized accreditation program for certification of biological safety cabinets. NSF accredited technicians complete a three hour written exam and eight hour practical exam at initial accreditation and every five years thereafter.
Why should you choose SBB Testing and Certification?
SBB Testing and Certification is committed to unbiased, objective testing and certification for BSC's, laminar flow equipment or cleanrooms. SBB Testing and Certification occupies the market niche devoted to thorough, quality and unrushed testing and certification and is the only choice for clients intent upon genuine discovery.
What is the difference between an A2 and B2 cabinet?
B2 cabinets exhaust 100% of their clean air quality without recirculation. Also, they require compensating the room's make up air supply. A2 cabinets can be stand-alone or vented. Stand-alone A2 cabinets have no building air considerations while vented A2 cabinets require a "canopy" connection. A "canopy" connection is a bypass pathway from the room to the exhaust system used to constantly maintain the exhausted portion of the A2 cabinet. A2 vented cabinets also require building air consideration.
Why does a B2 cabinet take more time to certify?
A B2 cabinet takes longer to certify because NSF requires a site assessment test to all B2 cabinets which should be equipped with what is known as an air flow monitor alarm. If the exhaust flow drops by more than 20%, the BSC will go into alarm and shut down. NSF requires that this alarm be tested for both function and accuracy.
What is SBB Testing and Certification response time for service and emergency calls?
Within 24 hours, in some cases the same day.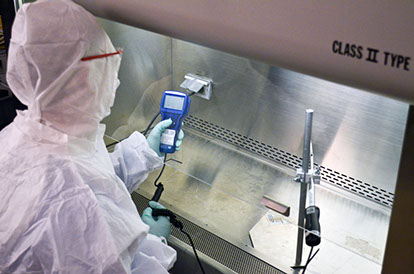 Are SBB Testing and Certification technicians qualified?
We are the most qualified in the industry. On our staff we employ mechanical engineers, NEBB accredited technicians, NEBB certified professionals and ANSI / NSF 49 accredited technicians.
Additionally, being the objective quality control agency of the larger SBB family of companies, SBB Testing and Certification is supported by an unfathomable depth of in-house expert capabilities in mechanical engineering, control systems, sheet metal and mechanical contracting.
What other services make SBB Testing and Certification unique?
SBB Testing and Certification incorporates proprietary statistical data monitoring of certification reports to ensure unbiased data gathering, which can be applied to auditing other certification companies and agencies.
We use customized ceiling HEPA filter isolation shrouding to enable valid DPC integrity testing of ISO Class 6, 7, 8, 9 and uncontrolled cleanrooms.
SBB Testing and Certification, as part of the SBB Holdings, is ISNetworld safety compliant.
SBB Testing and Certification is in the process of obtaining ISO 9001 (2008) certification.
We are the only market choice for clients serious about their testing and certification.
Does SBB Testing and Certification accept credit cards?
Yes, SBB Testing accepts all major credit cards. Please contact the office in order to process payment.
(978) 356-2200